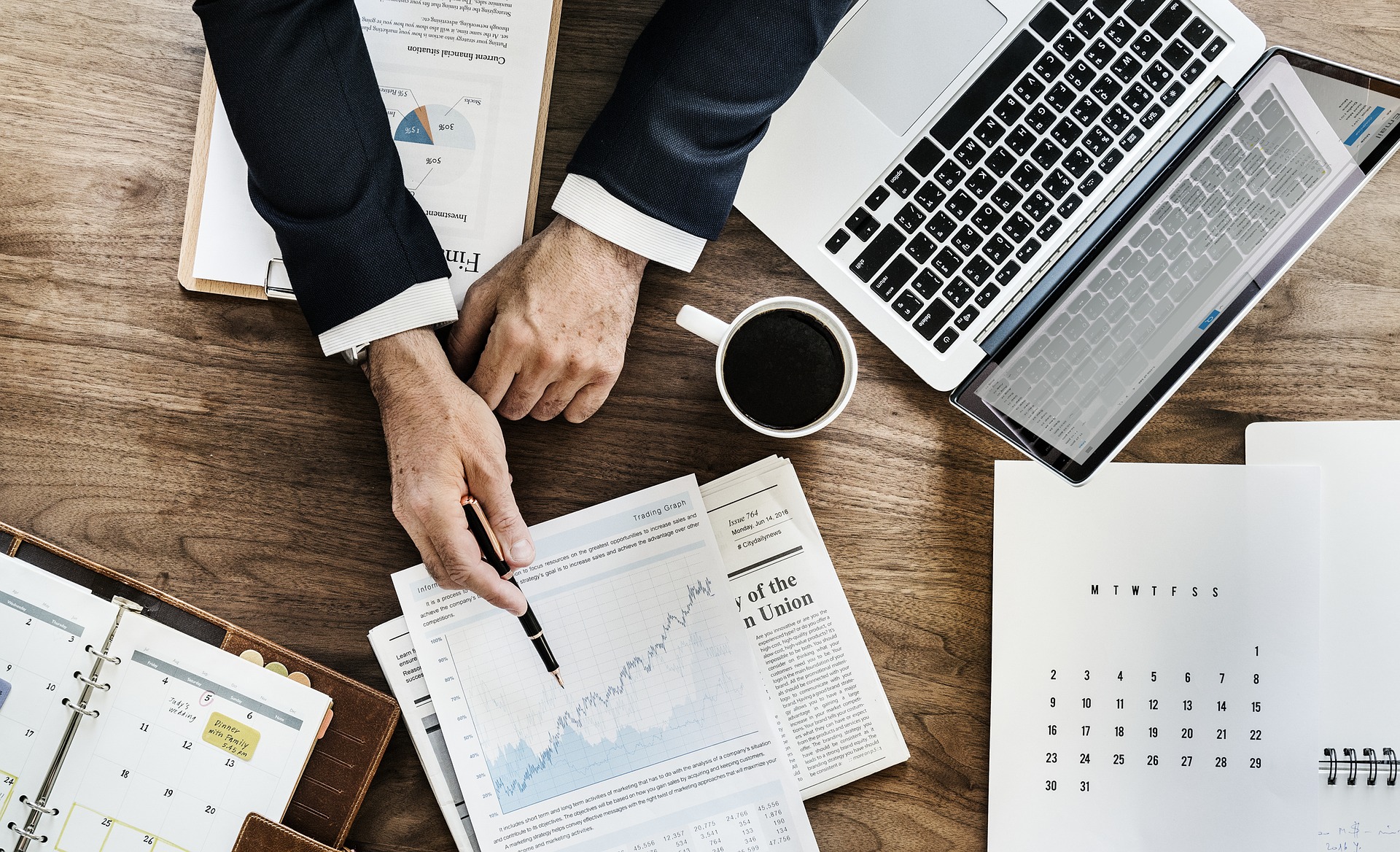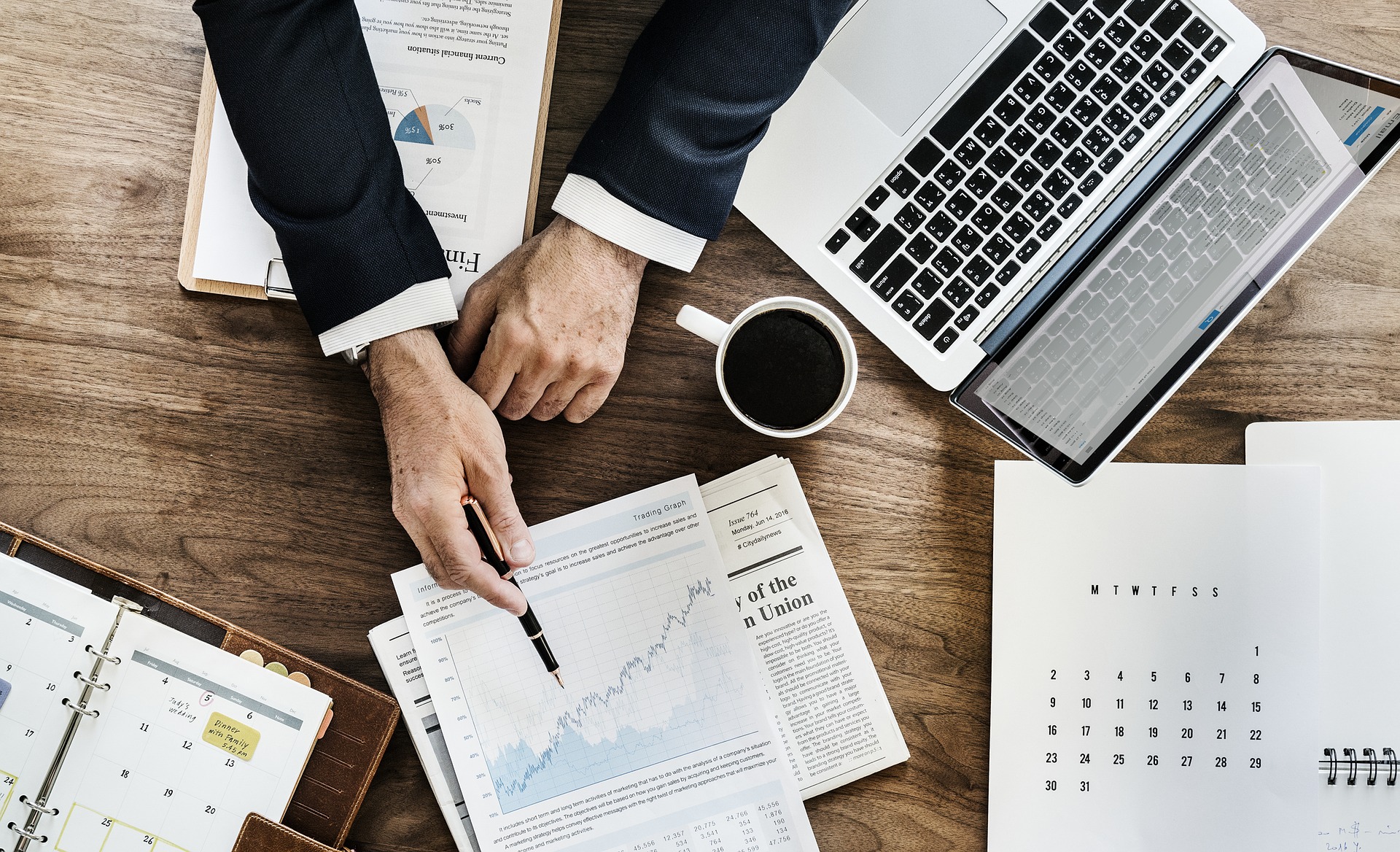 The job market in the horse industry is diverse, and so are the jobs it has to offer. According to a study by the FN, the German Equestrian Association (Deutsche Reiterliche Vereinigung e.V.), on horses as an economic factor, around 300.000 people in Germany make a living from work that is directly or indirectly linked to horses. EquiJob, the job portal for the horse industry, and the HorseFuturePanel took a closer look at the market and presented the results of their study at "spoga horse" in Cologne.
Short facts about the 2017/2018 labour market review
The study was conducted in the last quarter of 2017. Approximately 430 individuals took part, 104 of them employers, 208 employees and 117 job seekers. For a better and more accurate understanding of the results, participants were clustered into three sectors: Primary sector (e.g. stud farms, riding stables and breeding farms, horse boarding), secondary sector (e.g. horse shoeing, veterinary sector) and tertiary sector (trade, industry and services).
The study's background, and thus its main objective, was to identify different views on job profile, job descriptions and everyday working life in the horse industry and to create transparency about employers' requirements and employees' ideas. Above all, the aim was to highlight differences. Taking a closer look at the job market in the horse industry, it seems as if expectations of both parties lie quite far apart. However, perceived knowledge rarely helps in developing a deeper understanding and awareness of a problem. Real facts can be much more helpful.
An insight into the labour market situation
Corresponding to the audience at "spoga horse", the results presented at the trade fair relate to the tertiary sector exclusively, i.e. trade, industry and services in the horse sector. The share of companies in this sector is around 20%. According to a study by the German Equestrian Federation, this corresponds to approx. 60.000 jobs. When asked about their professional future in the next two years, 56% of employees said they wanted to stay in their current job. However, more than 30% are aiming for a career change and almost 10% even consider changing the sector. This figure is particularly alarming as the industry – like most industries in Germany – is struggling with a shortage of skilled workers. Under these circumstances, a loss of 10% of potential employees hurts twice as much.
If we now put the 44% who do not want to remain in their job in relation to the 60.000 jobs in the tertiary sector, there will be more than 26.000 vacancies in the next two years or over 13.000 vacancies per year. Thus, the fluctuation rate goes up to shocking 22%. As a comparison: In Germany, the average fluctuation rate across all sectors is at around 14%.
In other words, we are talking about more than 1.200 positions to be filled per month, and this figure does not even take into account the increasing need for personnel as a result of growth. Nearly 30% of the companies surveyed stated that they would like to hire more staff over the next few years, either because current capacities are no longer sufficient or because they anticipate significant growth. These figures show clearly that recruitment will not be an easy task in the coming years. Already today, 66% of the companies state that the shortage of skilled workers is (clearly) noticeable and almost 50% mention a decreasing number of applications. More than 60% even say there is a fierce competition for good candidates.
Best opportunities for employees and job seekers?
There's only one conclusion to be drawn from all these numbers: It is high season for employees and job seekers! Nevertheless, job seekers often criticize that it is difficult to find a suitable job with an attractive employer. How does it fit together?
One possible cause is the way in which companies recruit their staff. Although, 48% of the employers in the study indicated that it was (rather) difficult for them to find suitable applicants, 60% of the companies did not see any need to change anything about their recruitment process. 70% of the companies stated that they spent 500 euros or less on personnel recruitment. Considering the costs for a job advertisement on common job portals such as Monster or Stepstone, which range between 800 and 1.000 euros or more for one month runtime, most of the horse industry jobs won't even be found on these portals. Furthermore, only 36% of the surveyed companies use their own websites to advertise vacancies. So obviously, the question arises where to find these job advertisements at all.
In many other cases, requirements of employers don't really match with the conceptions of employees. Especially when it comes to "flat hierarchies", "salary", "introducing own ideas" and "work-life balance", the views of both parties diverge significantly, as the following figure shows.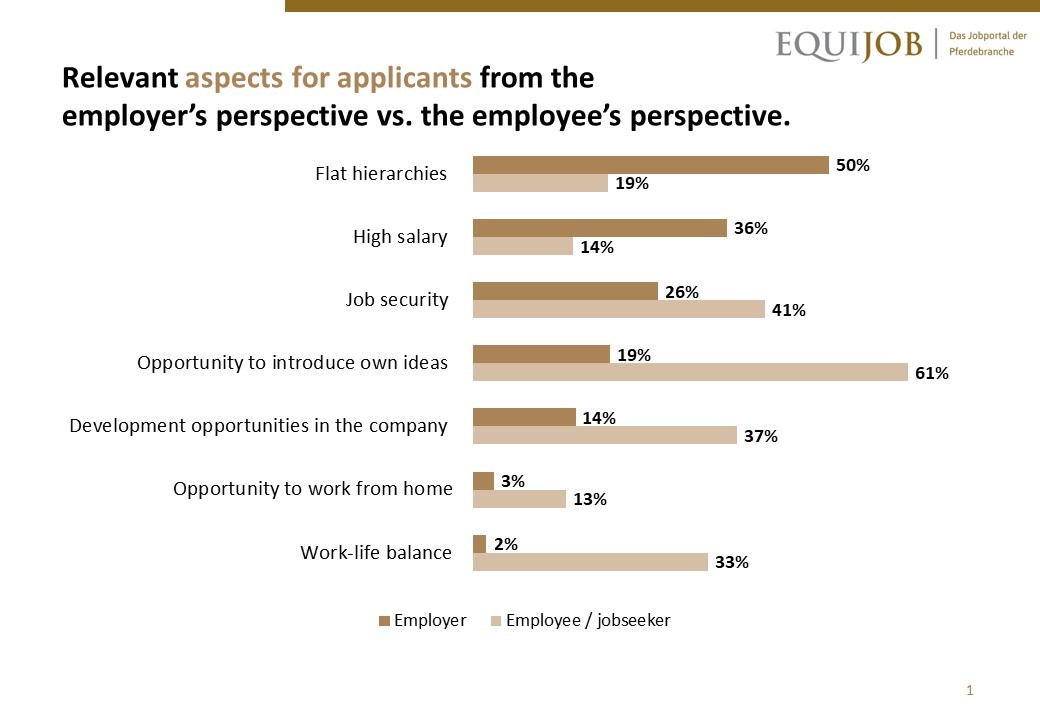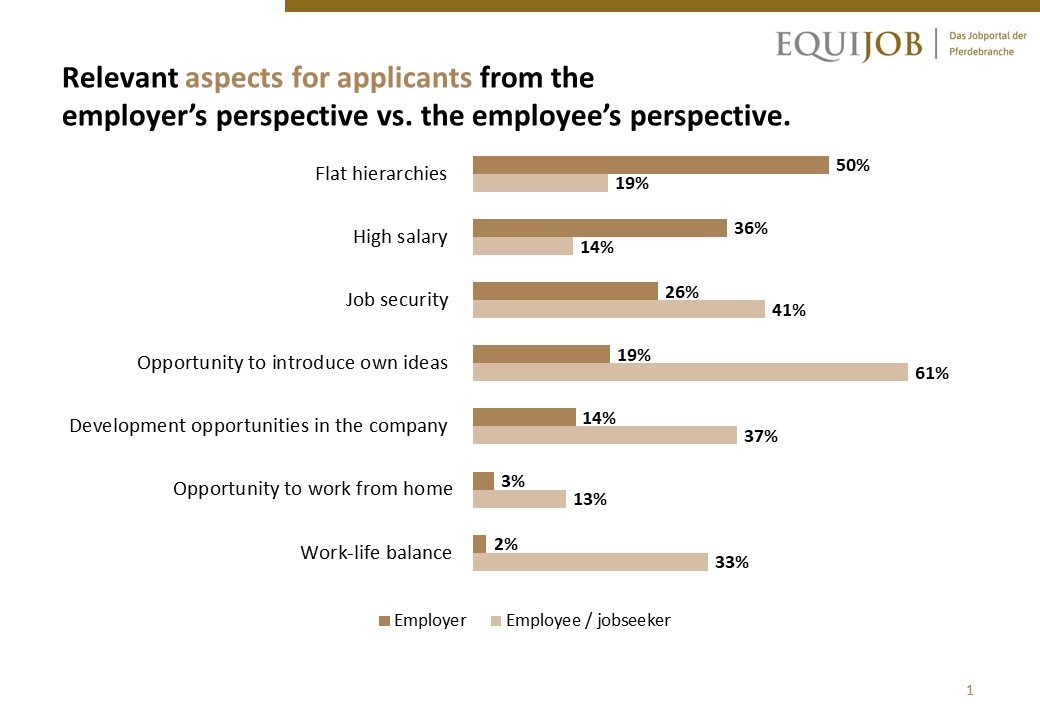 Source: Labour market study for horse sector 2017/2018
Another cause may be the employees' lack of skills and expertise. For example, 15% of the companies indicated that they need candidates who speak Swedish. However, only 3% of workers and job seekers stated that they had these language skills. In other words, the market is looking for skills that candidates actually do not have. Also, the willingness to invest in further training of employees is quite low.
A preview of the future
In summary, it can be said that the labour market in the horse industry will be facing a considerable challenge in the coming years. There is an awareness of this fact, but only very few employers are deciding to change something. The dialogue between employees and employers and the willingness to move towards one another is and remains important in order to overcome this challenge. However, this cannot and must not be a one-way street. There is definitely a need for optimisation of recruitment processes and how companies deal with their employees. But also employees and job seekers need to demonstrate their willingness to compromise. Holding on to expectations that the industry simply can't meet, even with the best intentions, won't help anyone. After all, 60% of the companies state that often, candidates' requirements are not compatible with the company's possibilities, be it a high salary, the desire to work from home when a job has to be done on site, or too little flexibility when it comes to working hours.
The horse industry is predominantly characterised by micro-businesses. They cannot offer employees the same opportunities as large corporations. Job seekers who want to work in this industry need to accept this. But they also have the unique opportunity to combine their passion with their job. And isn't this priceless?
***
---